PhaST – Scholastic aptitude test for pharmacy studies in Germany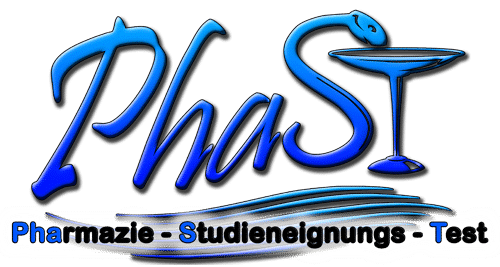 With the PhaST, we measure skills that are relevant for the successful completion of a degree in Pharmacy:
The ability to concentrate even under time pressure
Ability to work precisely even under time pressure
Ability to deal with complex rules
Understanding of structural formulas
Memory and ability to link information from different presentation modes
Observational and perceptive faculty
Ability to understand factual texts
Reasoning and combinatorial thinking
Spatial ability
Ability to concretise, experiment, classify
Analytical mathematical ability
School knowledge of mathematics, physics, biology and chemistry
Please note: The PhaST is currently only available in German language
We recommend that you register using a notebook or desktop PC! 
The PhaST consists of the eleven (German language) task groups:
Arbeitspräzision und Konzentration
Verständnis und Anwendung komplexer Regeln
Verknüpfung komplexer Daten
Textverständnis
Räumliches Denken
Qualitative Stoffanalyse
Interpretieren naturwissenschaftlicher Abbildungen und Tabellen
Analyse quantitativer Zusammenhänge
Mathematik und Physik
Biologie
Chemie
Test duration: approx. 4 hours
Participation fee: 75 euros, terms of business
The registration phase for the PhaST (study aptitude test for pharmacy studies) started today. Here you can find more information
Weiterlesen »
First-semester students at the University of Tübingen took the first test version of the PhaST in October 2019. As a
Weiterlesen »
The test dates for 2021 are fixed! All test dates, registration deadlines and the date by which you will receive
Weiterlesen »
PhaST is Currently used for the following programmes:
University of Freiburg
University of Tübingen
University of Frankfurt
University of Heidelberg
Saarland University
                              If you would like to change your registration (e.g. other date, other test location), please contact the support for participants.                                Please note: Reregistration is only possible within the registration phase and only for offers where there are still free places. There is no waiting list.
You will receive the results for all dates in the first half of the year (24.04., 29.05., 26.06.) in time for an application to Hochschulstart by 15.07.2021.
In addition to the information brochure and the information on preparation, you can also prepare yourself with material on similar aptitude tests such as the Test for Medical Studies (TMS) [insert link, which is now behind the "Here" button see below]. However, we do not directly recommend the use of this material here. While there may be overlaps in requirements between different tests and you may feel better because you have done more to prepare, practising a "wrong" task format may also hinder you when working on tasks in the "real" task format of the PhaST. Apparently similar tasks do not necessarily measure the same requirement in the same form.
If you want to prepare yourself with "non-test" material, in our view the best test to use is the Test for Medical Studies (TMS) and especially the task groups "Quantitative und formale Probleme", "Textverständnis" und "Diagramme und Tabellen". These have the greatest overlap with task groups of the PhaST.
A demo test is currently being planned. We cannot yet say when this will be available.