PhaST: Scholastic aptitude test for pharmacy studies in Germany
The PhaST is a subject-specific scholastic aptitude test with which you can improve your chances of gaining a place on a pharmacy course at various renowned universities. It is carried out PC-supported in test centres. There are eleven groups of tasks:
Working Precision and Concentration

Understanding and Applying Complex Rules

Linking Complex Data

Comprehending Text

Thinking Spatially

Analysing Material Qualitatively

Interpreting Scientific Figures and Tables

Analysing Quantitative Relationships

Maths and Physics

Biology

Chemistry
Only the German language will be available for the test
Test duration approx. 4 hours, participation fee: 75 euros, terms of business
The PhaST is being developed in cooperation between the University of Freiburg, the University of Tübingen, the University of Heidelberg and the ITB.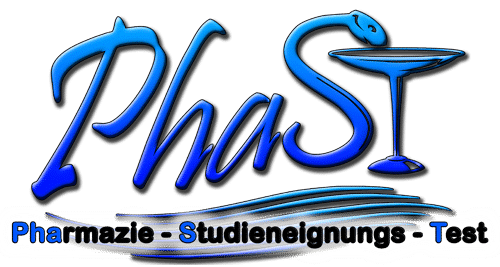 Registration for 2022 will start on 22.02. (subject to change).
| | Available testing locations (Germany) | |
| --- | --- | --- |
| | Berlin, Bremen, Bonn, Düsseldorf, Frankfurt a. M., Cologne, Lübeck, Mannheim, Marburg, Munich, Osnabrück, Saarbrücken, Tübingen, Waiblingen, Würzburg | |
| | Berlin, Bremen, Bonn, Düsseldorf, Frankfurt a. M., Cologne, Leipzig, Lübeck, Mannheim, Marburg, Munich, Osnabrück, Tübingen, Waiblingen, Würzburg | |
| | Berlin, Bremen, Bonn, Cologne, Leipzig, Lübeck, Mannheim, Marburg, Munich, Osnabrück, Saarbrücken, Tübingen, Waiblingen, Würzburg | |
| | Berlin, Bremen, Bonn, Düsseldorf, Frankfurt a. M., Cologne, Munich, Tübingen, Würzburg | |
Registration will only be possible as of the beginning of the respective registration phase. The closing date for registration is at 12.00 p.m. (CET) on the date indicated (see table).Please note that once the registration phase has ended, it is no longer possible to change the language of the examination or to re-register for another date or examination venue. Registration will also no longer be possible. There will be no waiting lists. Your results will be a available for download via e-mail no later than ten days after the test!
In addition to the information brochure (German only) and the information on preparation, you can also prepare yourself with material on similar aptitude tests such as the Test for Medical Studies (TMS). However, we do not directly recommend the use of this material here. While there may be overlaps in requirements between different tests and you may feel better because you have done more to prepare, practising an "inaproppriate" task format may also hinder you when working on tasks in the "right" task format of the PhaST. Apparently similar tasks do not necessarily measure the same requirement in the same form.
If you want to prepare yourself with "non-test" material, in our view the best test to use is the Test for Medical Studies (TMS) and especially the task groups "Quantitative und formale Probleme", "Textverständnis" und "Diagramme und Tabellen". These have the greatest overlap with task groups of the PhaST.
A demo test is currently being planned. As soon as this is available, access will be provided on this page.


The registration phase for the test date of TM-WISO, PhaST and BT-WISO on 25.06.2022 has ended on 07.06.2022. Registration for
Continue »
The measures currently in place in Germany to restrict the Corona pandemic have been substantially reduced in recent weeks. In
Continue »
Five additional universities accept the Pharmacy Study Aptitude Test PhaST  for the selection of their students: Kiel University  Leipzig University 
Continue »

PhaST is Currently used for the following programmes:
Freie Universität Berlin
University of Bonn
Heinrich-Heine-Universität Düsseldorf
Friedrich-Alexander-Universität Erlangen-Nürnberg
University of Frankfurt
University of Freiburg
Martin-Luther-Universität Halle-Wittenberg
University of Heidelberg
Kiel University
Leipzig University
Johannes Gutenberg University Mainz
Philipps-Universität Marburg
Ludwig-Maximilians-Universität Munich
University of Münster
Universität Regensburg
Saarland University
University of Tübingen
Julius-Maximilians-Universität Würzburg
You can apply to study pharmacy at the universities via Hochschulstart. Here you can enter your PhaST result directly during the application process via "Antragstellung Online" (AntOn). You can find more information about the application process at Hochschulstart as well as the important dates and deadlines for the application at https://www.hochschulstart.de.
The result of the PhaST is taken into account by the user universities in the "Auswahlverfahren der Hochschulen" (AdH) and the "Zusätzlichen Eignungsquoten" (ZEQ). The best way to find out exactly how the PhaST result is taken into account with other criteria, such as your Abitur grade, is to consult the selection statutes of the universities to which you want to apply. There you will always find the most up-to-date and binding information. Usually, the test score (standard score) of the overall test shown in the PhaST result is taken into account in such a way that you can only improve your chances of a place at university by submitting the PhaST result and not worsen them.
With the PhaST, we measure skills that are relevant for the successful completion of a degree in Pharmacy:
Ability to concentrate even under time pressure
Ability to work precisely even under time pressure
Ability to deal with complex rules
Understanding of structural formulas
Memory and ability to link information from different presentation modes
Observational and perceptive faculty
Ability to understand factual texts
Reasoning and combinatorial thinking
Spatial ability
Ability to concretise, experiment, classify
Analytical mathematical ability
School knowledge of mathematics, physics, biology and chemistry